MyClearUp 500ml
The 5 litre refill bottle is available here.
In your RV or caravan toilet and sink just pour 40 mls (4 capfuls) into your toilet and the same in your sink if you have a grey water tank. Flush with a glass of water to make sure the microbes get down into your holding tank. Do this once a week. There are 12 weekly doses per bottle.
Initially you may need to do this more frequently as the good microbes fight for dominance, especially if you have been using chemicals previously. You will know if the odour has not disappeared in 24 hours. However, over time the microbes create a film on the inside of your tank and will still perform for you even after dumping.
At home pour 40 mls into a bucket and half fill the bucket with water and pour this in to sinks, toilets, showers and wash basins. Do this once a month. There are 12 monthly doses per bottle.
This will keep all of your drains clear and prevent odours. If you have a septic system as I do, then you may need an extra dose if you are having increased use periods (when the family come and stay at Christmas).
The 5 litre refill bottle is available here.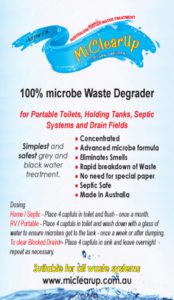 AU$34.90
<span class="asp_price_shipping_section">AU$1.00 (shipping)</span><div class="asp_price_full_total">Total: <span class="asp_tot_current_price">AU$35.90</span> <span class="asp_tot_new_price"></span></div>