"Hi Graham,
I was blown away by the swift shipment as I emailed you on Monday 28th June at 5.30.32 pm AEST and the parcel of 4 bottles arrived in Friday's mail, we only get deliveries Monday Wednesday Friday, so a million thanks.

I have been using the usual pink and green bottles one buys when buying a porta potti and had noticed a disgusting smell of urine, as that is all that goes into my porta potti, when returning to the locked campervan parked in the sun in Darwin. I didn't like the chemical smell of the coloured stuff and am so releaved to have MiClearUp without odor as I leave the lid up and the porta potti pulled out of its cupboard when I go to bed so it's ready for instant night time use. As well as using MiClearUp as instructed, 4 lid fulls followed by a glass of water in the base of the porta pottiI, I also put 2 lid fulls in the top section with a cup of water and let it sit for 6 hours so any urine round the plastic/rubber seal would be dealt with.

Hooray day 2 and NO MORE SMELLS, thank you thank you Graham

I will recommend it to every travelling porta potti user I come across in my travels.
Another very very happy customer
Ruth."
Thank YOU Ruth. I appreciate it, Graham

MyClearUp 500ml
The 5 litre refill bottle is available here.
In your RV or caravan toilet and sink just pour 40 mls (4 capfuls) into your toilet and the same in your sink if you have a grey water tank. Flush with a glass of water to make sure the microbes get down into your holding tank. Do this once a week. There are 12 weekly doses per bottle.
Initially you may need to do this more frequently as the good microbes fight for dominance, especially if you have been using chemicals previously. You will know if the odour has not disappeared in 24 hours. However, over time the microbes create a film on the inside of your tank and will still perform for you even after dumping.
At home pour 40 mls into a bucket and half fill the bucket with water and pour this in to sinks, toilets, showers and wash basins. Do this once a month. There are 12 monthly doses per bottle.
This will keep all of your drains clear and prevent odours. If you have a septic system as I do, then you may need an extra dose if you are having increased use periods (when the family come and stay at Christmas).
The 5 litre refill bottle is available here.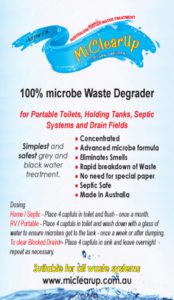 AU$34.90
<span class="asp_price_shipping_section">AU$1.00 (shipping)</span><div class="asp_price_full_total">Total: <span class="asp_tot_current_price">AU$35.90</span> <span class="asp_tot_new_price"></span></div>